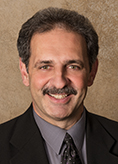 Gino Romagnoli, CGA
Senior Manager - Investor Services
Gino joined Shelter in 1983 as the Manager of Tax and Financial Reporting. In 1988, Gino assumed the position of Manager, Syndications and in 1993 he assumed the responsibilities as Manager of Investor Services. In his position, Gino is responsible for the regulatory reporting requirements in regard to LREIT and for reporting to and communicating with the investors of all Shelter syndicated real estate properties located across Canada and the United States.

Gino obtained his Certified General Accountant designation in 1988.
Email: gromagnoli@scpl.com