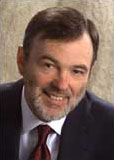 Richard N. Blair, CA
Senior Vice President & Chief Operating Officer
Mr. Blair first became associated with Shelter in 1979 as the Controller of the National Property Management Division. In 1983, Richard assumed the position of Vice President of National Property Management and in 1990 he was appointed to the position of Senior Vice President. In his current position, Richard has overall responsibility for all operational, administrative and financial aspects of Shelter Canadian Properties Limited.

Richard is also the Senior Vice President - Properties, Shelter American Holdings, Inc. as well as Secretary and Director of a large number of companies, which are currently under the administration of Shelter Canadian Properties Limited. He also operates as a management consultant.

He was previously employed with Price Waterhouse, Chartered Accountants.

Richard obtained his Chartered Accountant designation in 1978. He also holds a Bachelor of Commerce (Honours) degree and a Bachelor of Arts (Psychology) degree from Carleton University, Ottawa, Ontario.
Email: rnblair@scpl.com